Ulf is a pub-thug and aspiring mime in Tangled: The Series.
Background
Edit
Physical appearance
Edit
TBA
Ulf is seen in Corona Castle during Eugene's verse of "Life After Happily Ever After". He, along with most of the main thugs, appears to have become one of Eugene's closest companions outside of Rapunzel and Maximus. In "What the Hair?!", Ulf appears in the castle after Eugene explains that one of the guards is terrified of mimes (as they see things that aren't there). He later shows up at the Snuggly Duckling eating an invisible sandwich.
In "Painter's Block", Ulf was one of many of Corona's local artists to fall victim to Mrs. Sugarby's plot to free her master, Zhan Tiri. Fortunately, he and the others were saved by Rapunzel, Eugene and Cassandra.
Ulf is the only one of the major Pub Thugs without a speaking role.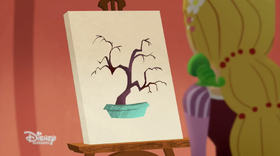 Click here to view the gallery for this article.
References
Edit
Ad blocker interference detected!
Wikia is a free-to-use site that makes money from advertising. We have a modified experience for viewers using ad blockers

Wikia is not accessible if you've made further modifications. Remove the custom ad blocker rule(s) and the page will load as expected.