Rudiger is a recurring character in the first season of Tangled: The Series. Rudiger is currently owned by Varian, whom which is his pet-raccoon.
Background
Edit
Physical appearance
Edit
Rudiger is seen as having a monochrome shade of grey and black stripes, the normal of which every raccoon bears. Rudiger is seen as chubby one, with green eyes and only appearing with one-tooth. His eyes also glow in the dark.
Personality
Edit
Rudiger enjoys eating apples, spending time with his young owner and friend, Varian and getting attention from him. As he enjoys being petted.
TBA
Rudiger is a name in German which means "raccoon".
He is most likely the raccoon that was seen in "What the Hair?!".
Rudiger was not seen in " Great Expotations," although Varian was.
In "Secret of the Sundrop," Rudiger turned on Varian and then decided to go to jail with him.
Rudiger's name was first introduced in "Queen For a Day."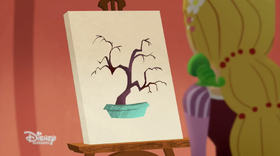 Click here to view the gallery for this article.
References
Edit
v

•

e

•

d

Tangled: The Series Characters